How to start homesteading in Nevada
Nevada may be best known for the glitzy, glamorous gambler's paradise of Las Vegas and Reno. Even though this scene seems antithetical to homesteading, the Silver State has a long legacy of farming and ranching and boasts many opportunities to support this lifestyle even today.

With its expansive, inexpensive rangeland and low population density, ranching and raising livestock is central to the culture in Nevada. It can be difficult to grow crops in Nevada because of the range of harsh climates, from freezing mountains to the blistering desert, but by choosing the right crops (and, perhaps, irrigation systems), it is certainly possible.

If you think Nevada might be right for you, here's how to start homesteading Nevada.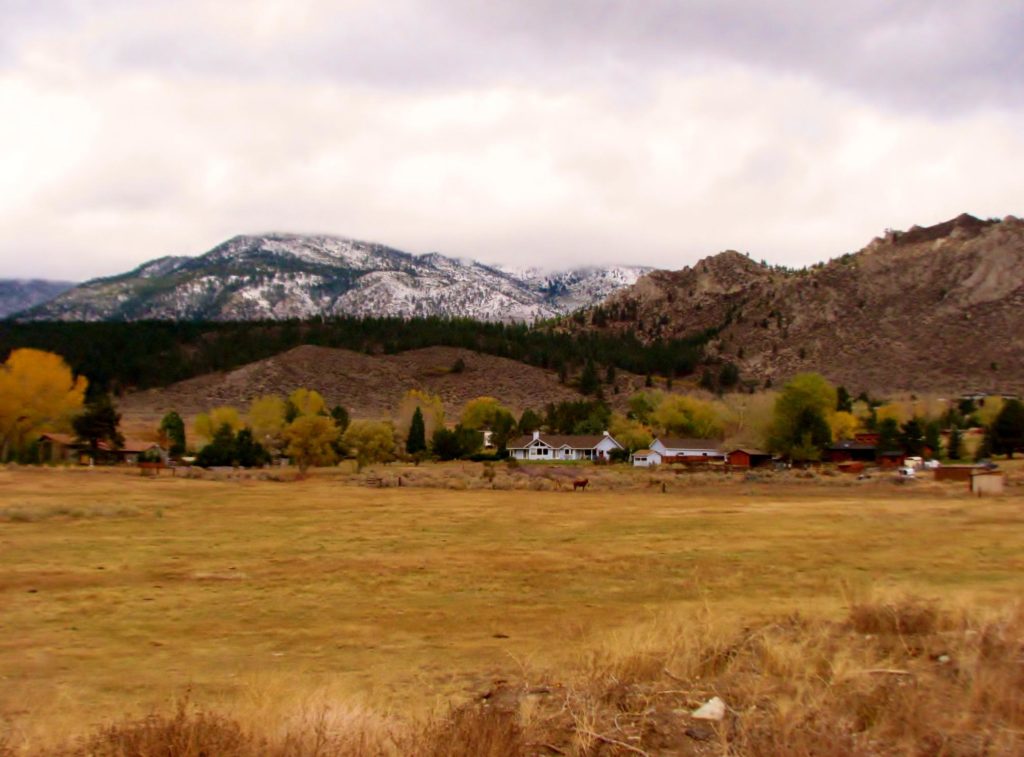 Buying farmland in Nevada
According to 2019 data from the United States Department of Agriculture (USDA), the average cost of farm real estate in Nevada was $1,020 per acre, compared to the national average of $3,160 that same year. 

According to the USDA's 2018 State Agriculture Overview, Nevada has 6.1 million acres of farmland and 3,400 farms. The average farm size is 1,794 acres.

Working farms must obtain a state business license or Notice of Exemption from the Secretary of State's office. Other state or local licenses may be required.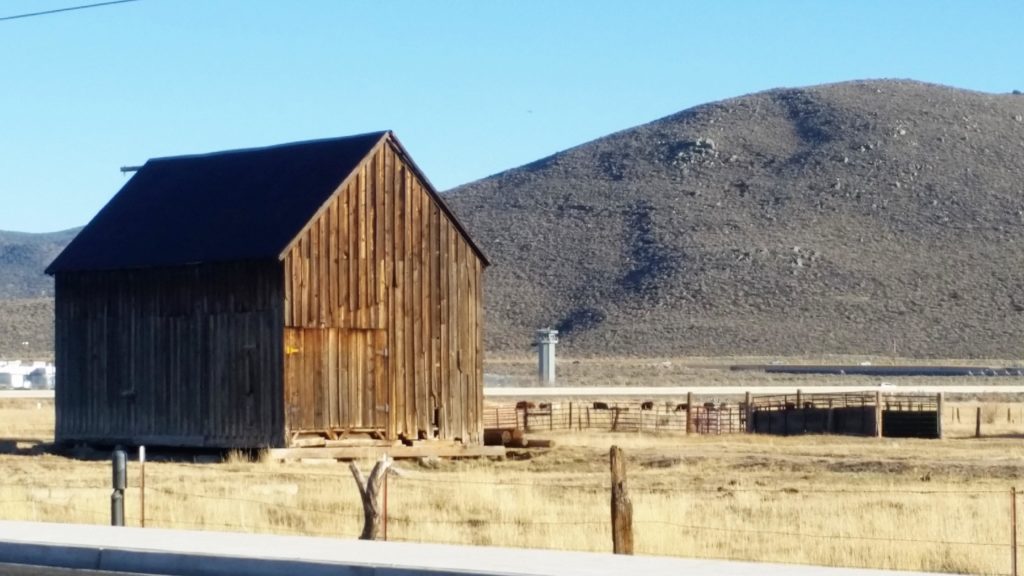 Growing crops in Nevada
Crop agriculture is not as productive in Nevada as ranching and livestock. Hay, grown to feed livestock, is Nevada's biggest crop. Other crops produced in the state include alfalfa seed, barley, garlic, mint, onions, potatoes and wheat.

The USDA hardiness zones in Nevada range from 4a in the mountainous regions to 10a in the southernmost corner of the state in the desert surrounding Las Vegas. 

Nevada's Sunset climate zones, which are often considered more accurate in the Western United States because they consider factors like maximum temperature and elevation, include zone 1 with intensely cold winters and possible frost any day of the year; slightly-warmer zone 2 in more interior zones of the state; high-desert zone 10; and zone 11 in the southernmost tip of the state, with scant rainfall and sizzling high temperatures reaching up to 110 degrees Fahrenheit.

Because there is such a wide variation, knowing your growing zone is important to successfully grow crops in Nevada. 

Northern, mountainous Nevada has low yearly rain totals and summer heat. Cool-weather crops that grow well when planted in the early spring include carrots, beets, celery, broccoli, cauliflower, lettuce, radishes, onions, potatoes, snow peas, strawberries, kale and cilantro. Warm weather crops include tomatoes, peppers, squash, green beans, cucumbers, pumpkins, tarragon, basil, parsley, rosemary, thyme and oregano.

Crops grown in Southern Nevada require significant irrigation or low-water varieties to grow in the desert climate. Asparagus, onions, peppers, tomatoes, spinach, peas will be able to tolerate the area's alkaline soil. Artichoke, hot peppers, lemongrass, beans, cantaloupes, eggplants and rosemary also grow well in the dry, hot region. 

Nevada's state soil is the Orovada soil, which covers over 360,000 acres in northern Nevada. Orovada soils are arable when irrigated and are considered prime farmland. Alfalfa for hay and seed, winter wheat and barley, and grass for hay and pasture are principally grown on this soil.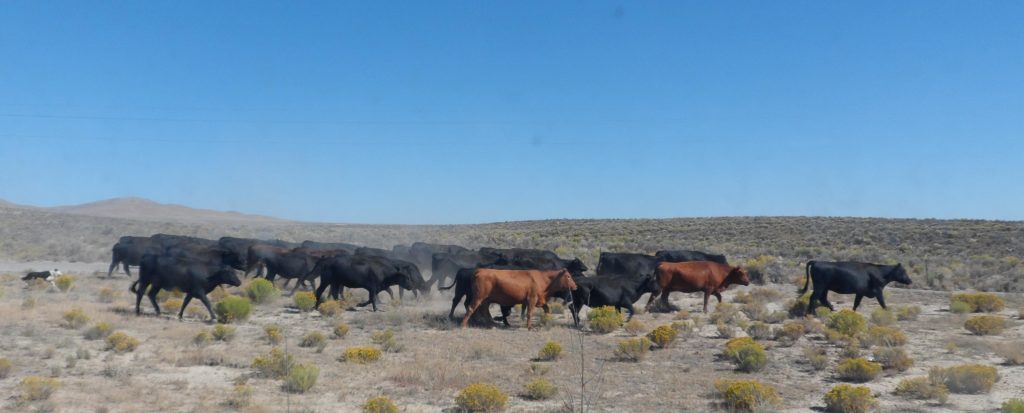 Raising animals in Nevada
Cattle and sheep ranching is the primary agricultural activity in Nevada. Most Nevada cattle are sold to farmers in California, Idaho, Nevada and the Midwestern states. Sheep, hogs and lambs are sold to meatpackers, while wool is sold to textile mills. Dairy is also important to Nevada's livestock economy.

The livestock production industry alone provided an economic impact of $755 million to the state of Nevada. Cow-calf production is the largest part of the animal industry sector which represents about 75 percent of the production in the state of Nevada.

Livestock identification is important to the state of Nevada to protect livestock producers and owners from theft and unfair business practices. Every owner of livestock in Nevada may design and adopt a brand and register them with the state. The state inspects brands on livestock presented for sale, shipment out of the state or district, or prior to slaughter and the licensing of livestock and agriculture product buyers.

Nevada is a brand inspection state, which means a brand inspection is required for all changes of ownership regardless of buying, selling, rescuing or gifting, as well as for slaughter. A brand inspection is required regardless of whether the livestock is sold or purchased or received through unofficial methods like ads, grocery store flyers or Craigslist, as well as for all transportation across district lines, within the state and to leave the state. Livestock Movement Permits are available. A brand inspection is required if entering Nevada from a brand inspection state, or legal proof of ownership if entering from a non-brand inspection state. Owners of livestock are required by state law to declare their livestock yearly and pay a minimal per head assessment to help support the livestock inspection program.

A health certificate and negative Coggins test is required for all equine entering Nevada or entering any neighboring states. A health certificate and entry permit are required on any cattle/bison entering Nevada. Any susceptible livestock, including equine, bovine, porcine, caprine, ovine and cervidae entering the State from a county where vesicular stomatitis has been diagnosed within the last 14 days or a county that contains a premises quarantined for vesicular stomatitis shall be accompanied by a CVI dated within fourteen 14 days of entry containing the following statement: "All animals identified on this certificate of veterinary inspection have been inspected and found to be free from clinical signs of vesicular stomatitis.

According to Nevada Fence Law, it shall be unlawful for any person to herd or graze any livestock upon the lands of another without having first obtained the consent of the owner of the lands so to do. The livestock which is herded or grazed upon the lands of another shall be liable for all damages done by such livestock while being unlawfully herded or grazed on the lands of another, together with costs of suit and reasonable counsel fees. This shall not apply to any livestock running at large on the ranges or commons. 

If any livestock breaks into any grounds enclosed by a legal fence, the owner or manager of the livestock is liable to the owner of the enclosed premises for all damages sustained by the trespass. If the trespass is repeated by the neglect of the owner or manager of the livestock, the owner or manager of the livestock is for the second and every subsequent offense or trespass, liable for double the damages of the trespass to the owner of the premises. 

However, if the owner of the grounds or crops trespassed upon by livestock entering upon or breaking into his or her grounds, whether enclosed by a legal fence or not, kills, maims or materially injures the livestock, the owner or occupier of the grounds or crops is liable to the owner of the livestock for all damages, and for the costs of such damages.

The owner or occupier of grounds or crops so damaged and trespassed upon may take up and safely keep, at the expense of the owner or owners thereof, after due notice to the owners.
There are several livestock auctions that take place in the state of Nevada, including the Fallon Livestock LLC sale every Tuesday and the Nevada Livestock Marketing, LLC sale every Wednesday.
Selling food in Nevada
There are a total of 27 farmers markets in Nevada listed on the Nevada Grown website.

In Nevada, farmers are required to have a certificate to sell farm products. Listed on each certificate is the location of the farm, crops grown, amounts harvested and harvest seasons for each crop. Both producer certificates and produce vendor certificates are issued by the Nevada Department of Agriculture.

Producer certificates are used to verify that farmers are selling crops of their own production. Producer certificates are required for honey, eggs of domestic poultry and all crops produced in Nevada in their natural and unprocessed state.

Producer certificates require an on-site inspection of the growing area when the crops are growing in the ground. Once the inspection is completed, a certificate will be issued. 

Currently, the cost for each certificate is $50 for the first year and $30 to renew. Certification renewal is required each year. 

In rural Nevada, cottage food operation is defined as a person who manufactures or prepares food items in a non-food establishment setting for sale directly to an end consumer. Sales are not allowed through the internet or mail and gross sales from a cottage food operation may not exceed $35,000 annually. Residents of Carson City, Douglas County, Washoe County and Clark County should contact their respective county health departments for local regulations on cottage food operations.

Cottage food products can be sold directly to the customer for their consumption and not for resale, or on the cottage food operator's private property, site of manufacture, or at a farmers market, swap meet, flea market, church bazaar, garage sale or craft fair.

Food samples may be individually pre-portioned in closed, disposable containers at the cottage food operation kitchen for sample distribution at the sale site. Open product sampling requires a temporary health permit to operate. 

Food permitted for sale by cottage food operations in Nevada include nuts, candies, jams, vinegars (though flavored vinegars must be strained or filtered prior to bottling and may not contain herbs; fruit rinds, berries or pieces of other fruits and vegetables), dry herbs, dried fruits; cereals, and popcorn. Baked goods that are not potentially hazardous; do not contain cream, uncooked egg, custard, meringue or cream cheese frosting or garnishes; fillings or frostings with low sugar content; and do not require time or temperature controls for food safety are also permitted for sale.

Food packaging must be affixed with labeling that prominently reads: "MADE IN A COTTAGE FOOD OPERATION THAT IS NOT SUBJECT TO GOVERNMENT FOOD SAFETY INSPECTION." 

All required labeling information should be printed prominently and conspicuously in English, including the common, usual name or descriptive identity of the packaged food item; net quantity of contents; a list of all ingredients, in descending order of predominance by weight; and declaration of any food allergen contained in the food, unless the food source is already part of the common or usual name of the product or clearly identified in the ingredient list.
In order to operate a cottage food operation, Nevada Revised Statutes requires that the cottage food operation register with the health authority. The health authority may require any information deemed necessary and appropriate for the registration process. 

A cottage food operation may be held financially responsible for the cost of the complaint and foodborne illness investigation, if found to be valid.

Producer certificates are used to verify that farmers are selling crops of their own production. Producer certificates are required for honey, eggs of domestic poultry and all crops produced in Nevada in their natural and unprocessed state.

A producer certificate must be obtained for the direct sale of eggs. Local health departments may also require an additional permit or license to sell eggs. The cost for each certificate is $50 for the first year and $30 to renew. Certification renewal is required each year. The Nevada Department of Agriculture visits farms to verify the information on applications and egg production questionnaires is correct. 

It is unlawful to sell eggs in Nevada that do not meet the minimum requirements specified in Nevada Revised Statute. Eggs must be graded for size and quality and labeled accordingly. Eggs must meet the minimum requirements for "Grade A." Containers must be labeled with egg size and grade, the name and address of the producer and the following safe handling statement: "Safe Handling Instructions: To prevent illness from bacteria keep eggs refrigerated, cook eggs until yokes are firm, and cook foods containing eggs thoroughly." Eggs must also be clean, which is defined by Nevada Administrative Code as "free of foreign material and stains." 

Although not required by federal or state law, it is recommended to include a pack date, sell by, use by, best if used by or other date which informs the buyer when the eggs were packed or should be used.

When eggs are sold from flats, baskets, boxes, buckets or other bulk containers, a label or placard must be posted in a visible place stating the grade and size, the farm name and address and the safe handling statement.
Nevada organizations for new farmers
How difficult is it to start homesteading in Nevada?
Land in Nevada is affordable and the state has a strong culture of raising livestock and ranching. Growing crops and selling food products, however, is more challenging in Nevada than in other states. The state will not be a fit for all farmers and homesteaders, but could be a good fit for you if your primary interest is raising livestock.