How to reduce food waste with fermented vegetables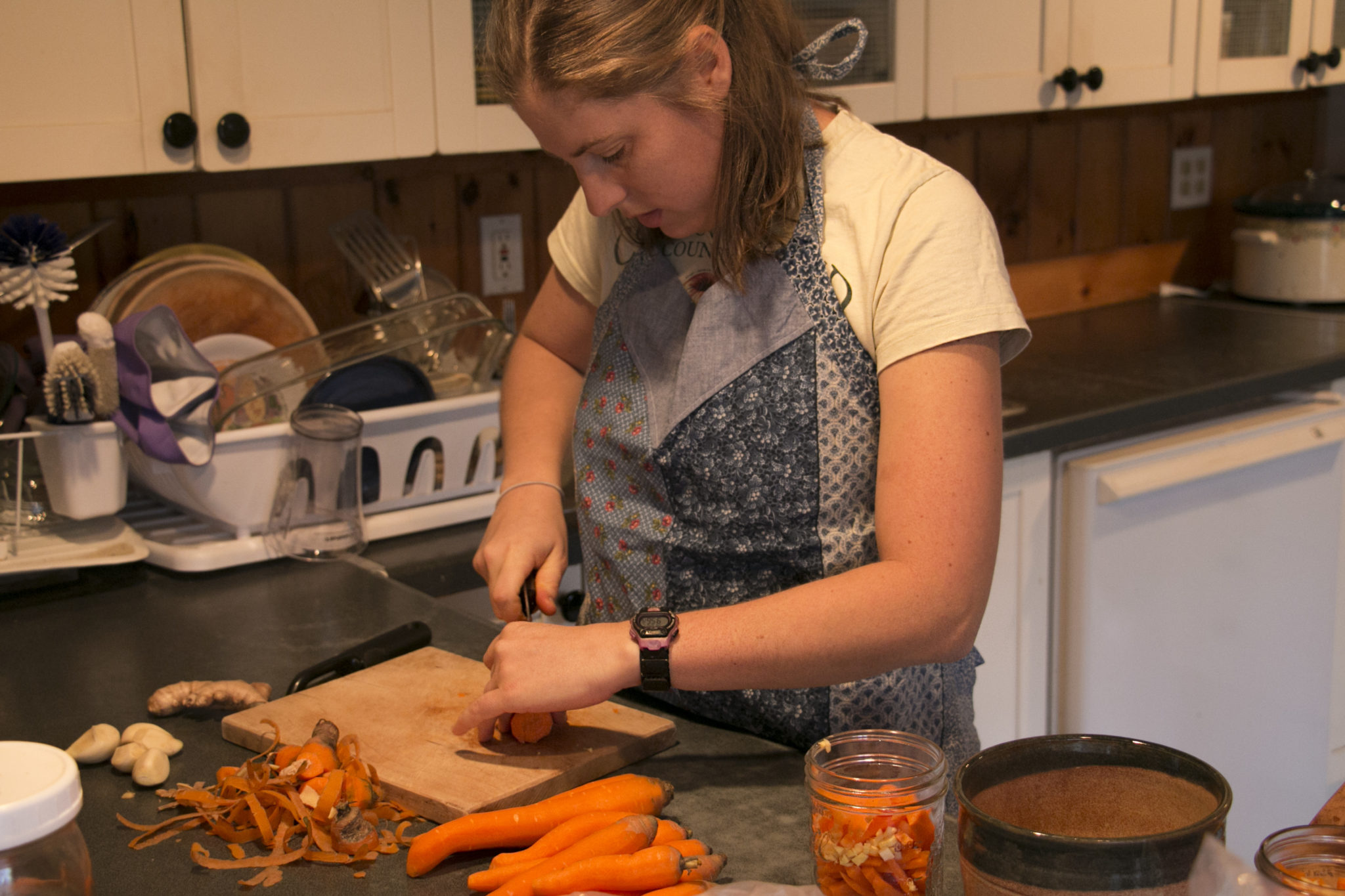 A fire crackled in the woodstove as Mary Margaret Ripley chopped carrots and ginger root. Her husband, Gene Ripley, helped their 20-month old daughter, Harriet, sort the vegetables into glass jars. They then added a scoop of curry powder and a simple mixture of salt and water, brine that would ferment the vegetables over the course of five to seven days.

For the Ripleys, fermented vegetables are a way of life.

"We try to have fermented vegetables in our lives all the time," Mary Margaret Ripley, who started fermenting foods as a hobby about 10 years ago, said.

Filled with nutrients, digestive enzymes and "good bacteria" known as probiotics, fermented vegetables and other types of fermented food, such as yogurt, are becoming increasingly known for their health benefits. And you don't have to eat a lot of it to reap the rewards. In fact, fermented vegetables — which are often tangy and sour — are mostly used as a condiment or side dish, adding flavor and nutrition to a meal in small amounts. However, if you eat them every day like the Ripleys, you have to stay on top of production.
On the Ripley's kitchen counter were six large jars of kimchi — a Korean recipe of fermented cabbage, carrots, radish, scallions, ginger garlic, red chili flakes and salt — as well as a jar of fermented beets, and a smaller jar of fermented jalapenos.

When it comes to creating fermented foods at home, "one of the easiest things to start with is vegetables," said Mary Margaret Ripley.

"Especially if you have a vegetable farm," Gene Ripley added.

In 2009, the Ripleys purchased a farm in Dover-Foxcroft, where they cultivate more than 50 kinds of organic vegetables, flowers, perennials and herbs to be sold at farmers markets, to wholesale accounts, and through the farm's popular Community Supported Agriculture (CSA) farm share program.
With such a variety of materials at hand, the Ripleys — and chiefly Mary Margaret Ripley — soon started experimenting more and more, combining different vegetables and spices to create relishes, pickles, sauerkraut and salsa. The family now almost always has homemade kimchi in the refrigerator, and they'll also make fermented beverages including kombucha (fermented tea), beet kvass (fermented beet juice) and a fermented dairy drink called kefir, which tastes a bit like tangy yogurt.

Perhaps it shouldn't have come as a surprise when one of Harriet's first words was "kimchi."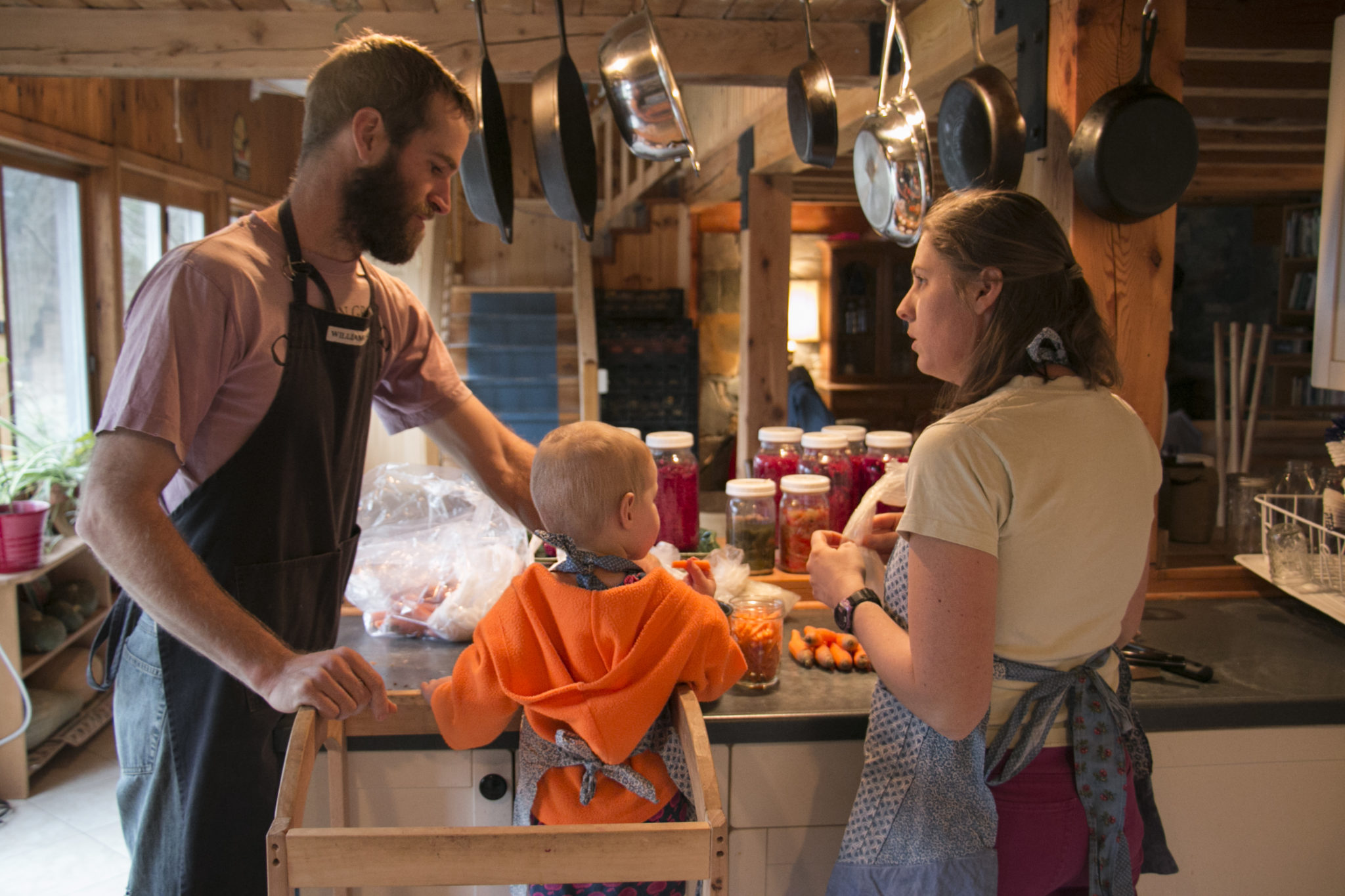 A light snow fell on the chicken coop and frozen fields of Ripley Farm as Harriet stood at the kitchen counter on a homemade wooden platform, fenced in by rails, so she could "help" her parents make one of her favorite snacks. Using a wooden spoon, she lazily stirred the brine while gobbling up carrot sticks at an impressive pace.

Distracting her daughter from the carrots, Mary Margaret Ripley scooped some fermented beets onto a plate and placed it in front of Harriet.
"Beet-chi!" Harriet chirped, her eyes lighting up with excitement. Without pause, she picked up a thin red slice and plopped it her mouth.

"She probably eats more fermented vegetables than me," Mary Margaret Ripley said.

The Ripleys make fermented beets without adding brine; they simply slice the beets extra thin and mix them with salt, which draws out enough juices to cover the vegetables in the jar. The same goes for sauerkraut and kimchi.

"Every day you want to make sure to press down the juices while it's in the rapid fermentation process," Mary Margaret Ripley said. "You want to have the vegetables kind of under the juices, because otherwise they're going to dry out and aren't going to taste great. And if you find that you don't have enough juices, you can add a little brine to bring it up in sauerkraut and kimchi or whatever."

One of the keys to fermenting vegetables is constant monitoring, and this is because the speed of the fermentation process varies depending on the temperature and the type of food.

The Ripley's ferment their vegetables at room temperature, setting their jars, with the screwed lids on, on the kitchen counter where they won't forget to check on them. Then, depending on the vegetable, they'll leave the jars there for anywhere from a day and a half (for cucumbers) to several weeks (kimchi). As the vegetables ferment, they release gases that cause the juices to bubble up. You can unscrew the top of the jar to release these gases, and you'll want to place your jars on a platter or tray to catch any juices that might spill over the top of the jars when you aren't looking, Mary Margaret Ripley said.

"As you ferment it, it gets softer. The fermentation is breaking down the cells of the cabbage or the vegetable that you use, which is a good thing to a point, and then it gets to a point where you're like, this tastes like mush," Mary Margaret said. "Everybody has their own preference for texture, and texture goes along with flavor, so as it ferments it gets tangier and more sour, and some people like it more sour, and some people like it less sour."

When they decide the food has fermented to the desired taste and texture, they place the jar in the refrigerator. The colder temperature does the trick.

"Some people might like it after a week or two and want to stop it with refrigeration at that point," Gene Ripley said. "Some people might like it after six months."

So that begs the question, how long do fermented vegetables last? According to the Ripley's, it varies greatly depending on the type of vegetable. The couple fermented whole jalapenos two years ago, placed them in the refrigerator, and they're still eating them. On the other hand, one of their favorite fermented recipes — a salsa made of peppers and onions — lasts just a couple months in the refrigerator before it becomes too mushy for their tastes.

"It's different from canning, where you worry about botulism with canning, and with fermenting, you worry about it not being palatable," Gene Ripley said.

In an effort to share the art of fermenting vegetables with others, Mary Margaret Ripley has given a number of free workshops in her community and surrounding towns over the years at community centers and churches. She enjoys teaching her neighbors this simple process that has been commonplace in many cultures throughout history. It's inexpensive, it's a way to use extra vegetables before they go bad, and it results in healthy, flavorful food.

For those who want to try fermenting vegetables on their own, the Ripleys suggest starting small, with small batches and simple recipes. Start with sauerkraut (salt and cabbage) or beets. Or you could try one of Harriet's favorites — curried carrot sticks.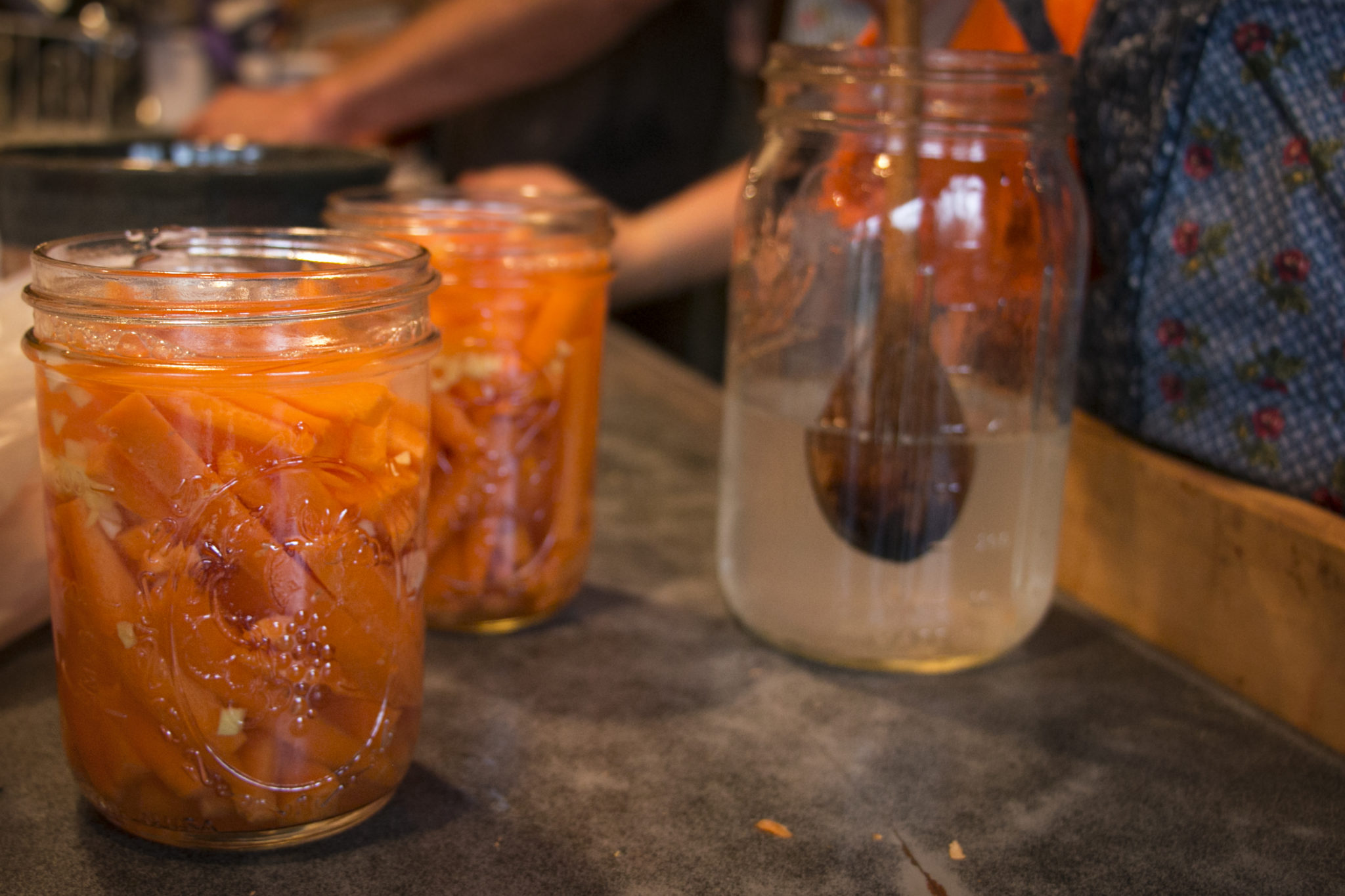 Curried Carrot Sticks
Yields 1 pint
Recipe from Ripley Farm in Dover-Foxcroft

2 tablespoons salt
1 quart water
Carrot sticks, enough to fill jar
2-3 ginger root slices
½ to 1 teaspoon curry powder

Create a brine by thoroughly mixing the salt and water in a large vessel. Pack the carrots, ginger slices and curry powder into jars, leaving 1 inch of headroom at the top of each jar. Pour over brine, filling up to 1 inch from top of each jar. Put lids on tightly, label with date and leave out at room temperature for five to seven days, until you like the taste of them. Then store in the refrigerator, and they're ready to eat.