How to make traditional Maine bean hole beans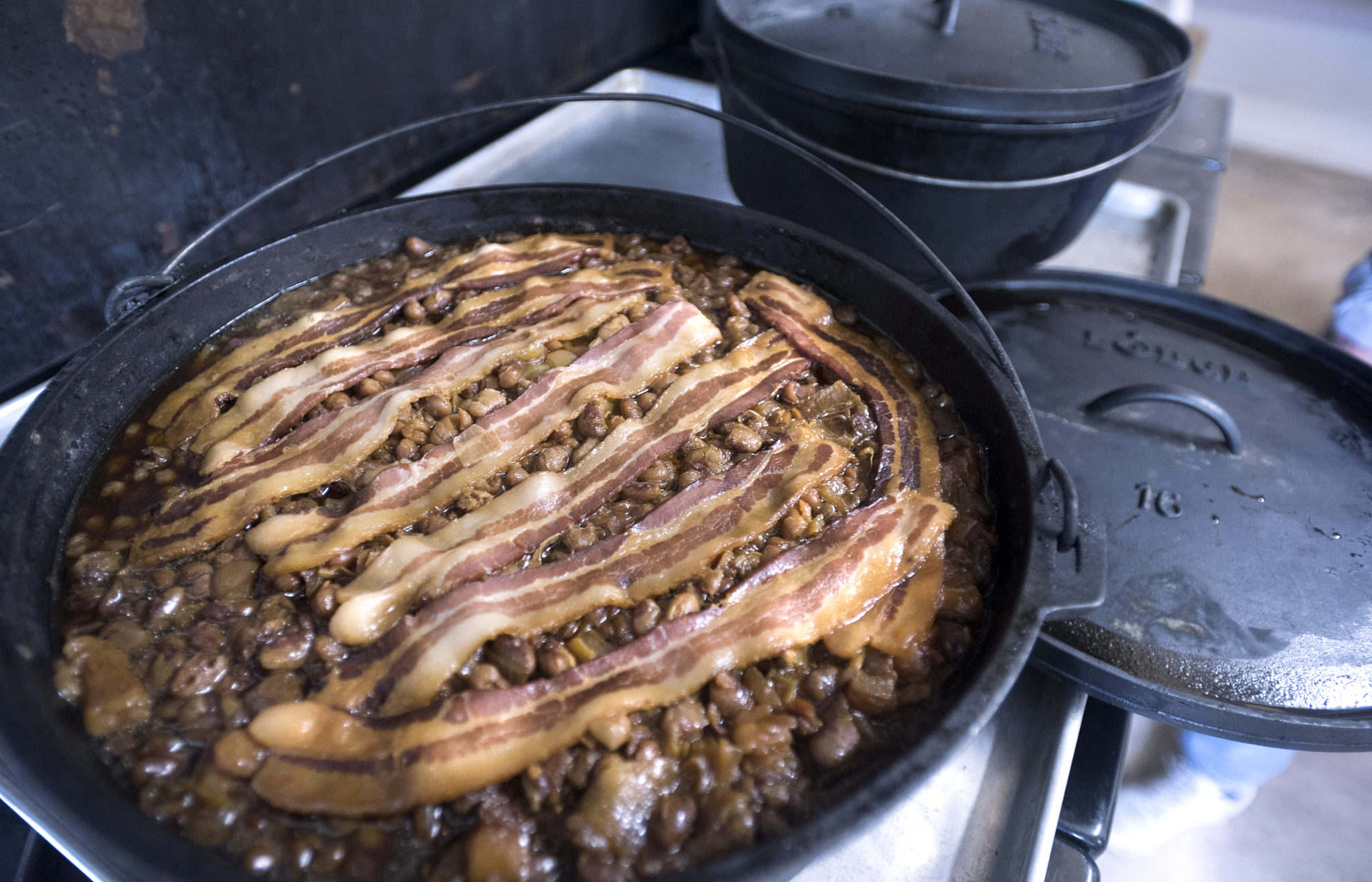 Bean hole beans are the traditional food of Maine's lumber camps and are often still made by groups with an affinity for the tradition. But how do you make traditional Maine Bean Hole Beans?
Islesboro food historian and Bangor Daily News cooking columnist Sandy Oliver offered this recipe for traditional Maine Bean Hole Beans. As is the case with many traditional foods, the recipe is a starting point. You could add bacon, or omit salt pork (add more salt if you make this change), add more onions or otherwise adjust it to taste.
Josh Parda, a volunteer with Comins Hall, feeds the fire as he prepares to make bean hole beans. | Gabor Degre

To make bean hole beans you need a deep bed of coals to set the pots of beans into. | Gabor Degre

osh Parda dumps the hot coals onto the cast iron pots in the bean hole in Eddington, Maine. | Gabor Degre
The instructions for baking the beans in a hole come from the Maine Organic Farmers and Gardeners Association. Happy bean cooking, and happy eating!

Traditional Maine Bean Hole Beans
Recipe by Sandy Oliver
Serves a crowd

2 pounds of Yellow Eye (or other large dried) beans
½ pound salt pork
½ cup molasses
¼ cup sugar
2 teaspoons dry mustard
½ teaspoon pepper
Pinch of salt
1 medium onion
Soak the beans overnight in water enough to cover generously.
Next day, boil the beans until the skins peel back when you blow upon a spoonful.
Put the beans together with the salt pork, molasses, sugar, mustard, salt and pepper and onion in a cast-iron bean pot and add enough water to barely cover the beans.
Now, lower the bean pot into a stone-lined pit in the ground into which a fire has been built and a good bed of coals has been made. Cover the cast iron bean pot with heavy-duty aluminum foil and then soil and allow it to cook for eight hours. Then take the pot out of the hole and dish up the beans. Notes: when lining the hole with stones, be careful to choose stones that have not been in the water, as they can explode when heated. Also, wood that is two to three inches in diameter will produce coals faster than big logs.