9 handy videos to help with your spring repairs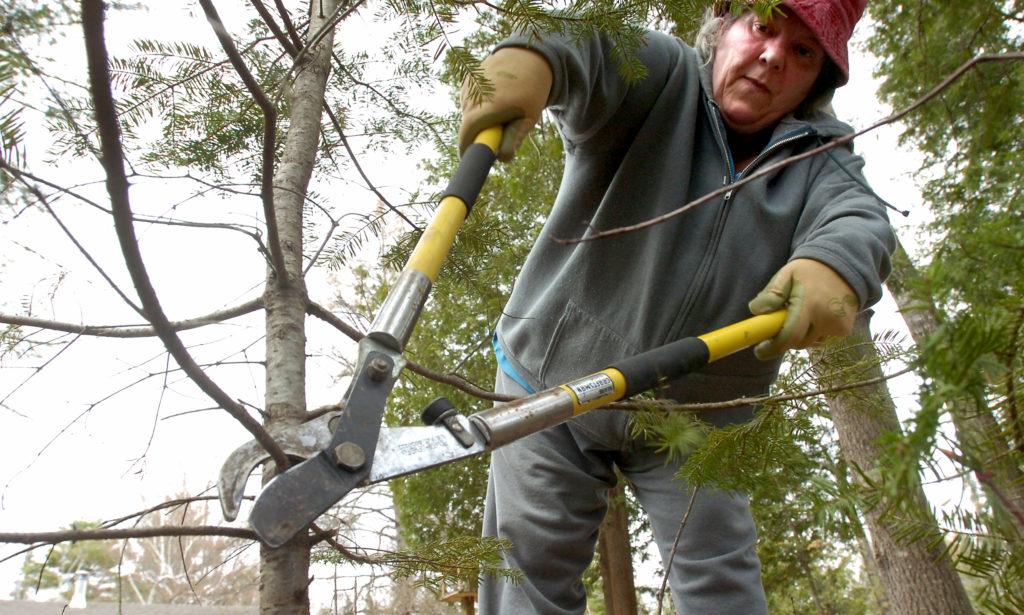 Between the freezing cold temperatures and the wet, heavy snow, winter months can wreak havoc on your home. When things finally thaw out, you probably have a number of spring repairs to do around the house to get everything back to working order.

Homesteaders often have an independent, do-it-yourself attitude, but sometimes it can be comforting to hear someone guiding you through the process. Equipped with your essential tools and the right instructional video, you can fix just about anything on your homestead.

Here are 9 common spring repairs and a few instructional videos that we found helpful for fixing up cracks, leaks and other winter-wrought damages around the house.

Seal water-stained ceilings
Unsightly brown and yellow stains on your ceilings have a variety of water-related causes, from ice damage to leaky plumbing. Even if preventing the stain permanently involves a bigger fix, you can start by covering the stain itself. It's essential that you seal the stain first, otherwise it will seep through the fresh coat of paint and ultimately come back. We like this simple and clear video from This Old House, the television show and magazine, to guide you through the fix.

Fix leaky roofing
Excess moisture, missing shingles and debris pile up can all cause your roof to spring a leak. Though they are a common homeowner ill, roof leaks can cause significant damage if they are not located and repaired quickly. This video from YouTube user Project Bolony will show you how to find and repair a leaky asphalt shingle roof.

Repair siding leaks
Any place where two different materials meet on your house has a potential to gap and leak. Sometimes water damage stains that seem to be from a leaky roof are, in fact, due to loose siding collecting excess moisture where vinyl siding meets a window frame. This Old House again has another great video about repairing siding leaks, as well as showing how to determine if your stains are caused by leaky siding.

Clean gutters and downspouts
The changing seasons and wild winter weather likely left your gutter filled with debris. You have to clean your gutters or else you could cause water damage to your house, even going so far as to end up in your basement. Wait until after a few dry days — dry debris is lighter and easier to remove — and use this video from Lowe's Home Improvement to guide you on how to properly clean and conduct simple repairs on your gutters for spring.

Block air leaks around windows
You may have weatherized your windows, but even now that winter is over, it is time to check if you left it with any leaks. Redoing the caulk around the windows helps prevent chilly drafts, water and bugs from getting in. This video from GE Silicone Caulk shows you how to pick and use caulk around your windows.

Repair rotting woodwork
Winter brings moisture, and if your wood sills or sashes have stood against the weather, there is a chance that the built up moisture has caused the material to deteriorate. Luckily, epoxy wood filler can repair the area. This four-part video series YouTube user Ask the Builder guides you through the process of protecting rotting wood in your window frame.

Trim broken tree limbs
Winter storms and heavy snow can leave your trees dangling with unstable broken branches that, if they fall, could damage your house or homestead. Of course, homesteaders want to find the best way to protect their home while also protect the nature around it. This video from CTSCAPER from shows you how to prune your tree using what he calls the "three cut method," and even demonstrates why proper pruning techniques are important by demonstrating what well-callused cuts look like versus their damaging counterparts.

Seal water out of your basement
Water does not just sneak in from the roof and the siding. Your basement can also be susceptible to flooding as winter thaws to spring. If you do not have the means to install a new drainage system this spring, there are certain measures you can take to keep your basement dry. YouTube user SSLFamilyDad has a great video about keeping water out of your basement by sealing up the basement floor with waterproof masonry paints.

How to tune up a sliding screen door
If walking out into your backyard every day involves a complicated tango of jiggling and jamming with your screen door, its tracks or wheels may be rusting or filled with debris. Luckily, you can easily remove it, clean it and grease it up for easy use. This video from YouTube user Home Repair Tutor shows you how to remove a sliding screen door from its track, clean the wheels so it moves more smoothly.