Mark Zeiger talks self-sufficient, off-the-grid homesteading in Alaska
Homesteading off the grid takes a lot of bravery. It takes even more bravery when you do it in the middle of the Alaskan wilderness.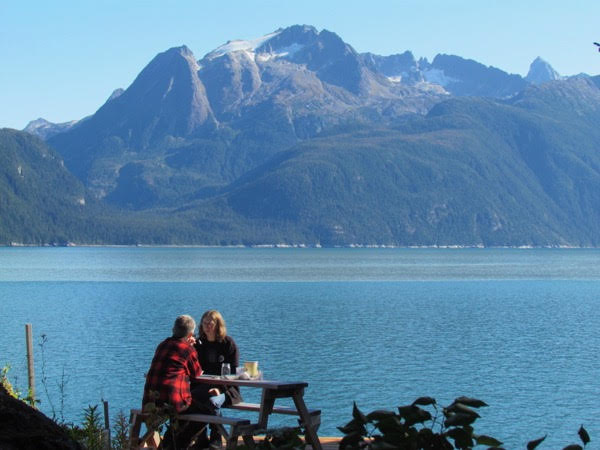 Mark Zeiger lives with his wife and daughter on self-sufficient, off-the-grid homestead south of Haines, Alaska. The views can't be beat: his 10 acres of forested land has about 700 feet of pristine Alaskan ocean waterfront and abuts the Lynn Canal, the longest and deepest fjord in the country.

But living in the Alaskan wilderness comes with its own challenges. There is no road to the property — the Zeigers park their car on a nearby the road and hike over a mile to their house, sometimes over rising tides. If the tides are low enough, the family hikes to town; if not, they canoe or kayak.

Zeiger chronicles his family's unconventional adventures in their off-grid Alaskan homestead on The Zeiger Family Homestead Blog. Zeiger chats with us for our series, Behind the Homestead Blog, about self-sufficient gardening through the Alaskan winter, preparing for emergencies when your house has no road and what "homesteading" means to him.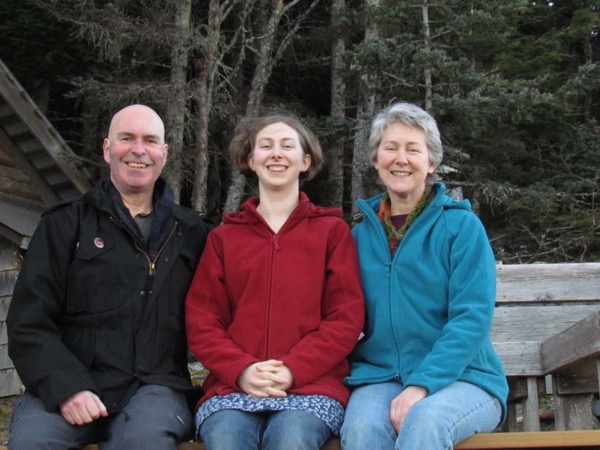 Hello Homestead: Tell me about your background. Where did you grow up, and what did you do before you started homesteading?
Mark Zeiger: I was born in Fairbanks, Alaska, the middle of 3 children. Our parents were a Presbyterian pastor father and homemaker mother.

I started working when I was in middle school, and did just about anything someone would teach me to do. I learned how to acquire the skills I needed, which helped me immensely when we started homesteading.

I started radio announcing in high school, and pursued that professionally for about 16 years. Radio being a poor business for supporting a family, I worked variously at many jobs, including as a temp office worker, and, briefly, a car salesman. [My wife] Michelle and I returned to Alaska in 1992, moving to Juneau for radio. Our daughter, [who goes by Aly], was born the next year.
I left radio in 1993, and worked as an administrative assistant in mental health, then various clerical jobs for the State of Alaska. Along the way I learned HTML, and began designing web pages.
HH: What inspired you to start homesteading?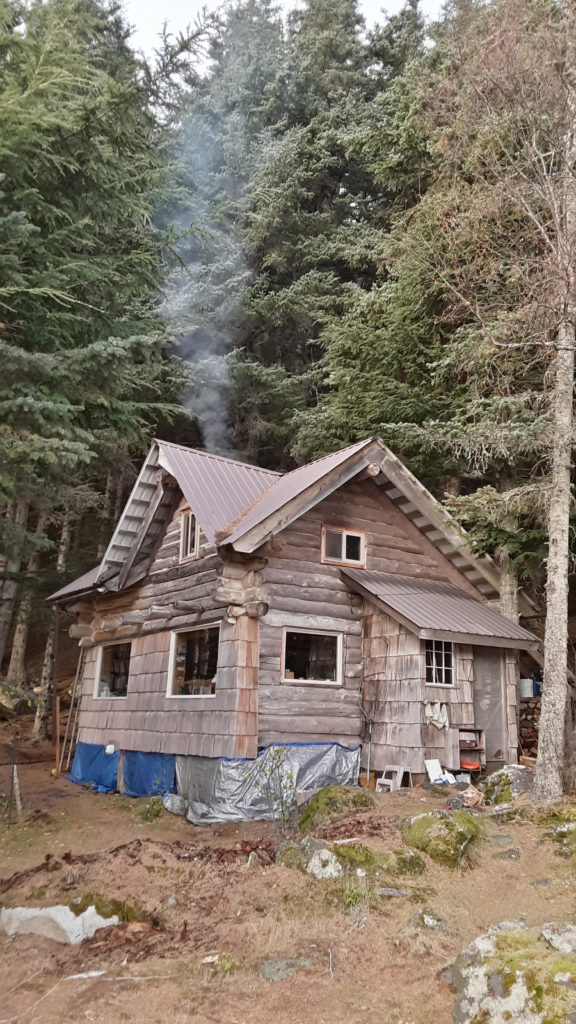 MZ: In Juneau, we lived in a suburb. We felt like we weren't taking full advantage of what our home state offers. We bought [our current homestead], then quickly realized that we wouldn't be happy just visiting it from Juneau, so we moved [there].
Michelle grew up wanting to be Laura Ingalls Wilder. I'd always dreamed of owning a little cabin on the edge of the ocean, in the Alaskan forest, but assumed we'd never afford such a place. I tell people we fell ass-backward into this property.
HH: What were your first homesteading projects?
MZ: Our first project was to reduce our belongings, move the essentials to the property by boat and on our backs, and clean the cabin so we could live in it. We also installed windows in the front of the cabin, covered the tar paper wall with shakes and renovated the outhouse. That was quite a process.
HH: Why did you decide to start your blog?
MZ: We started the blog because we had so much to tell friends and family, but didn't want to write the same stories over and over again in letters or emails. Ironically, very few of our family members actually read the blog regularly. Instead, we've built a reasonably-sized audience of like-minded people, both those who actively homestead, and those who dream of doing so.
HH: Homesteading in Alaska is also something of a popular culture phenomenon with shows like "Alaska: The Last Frontier" on the Discovery Channel. What should people know about homesteading in Alaska that they might not learn from reality television?
MZ: If they think they know what it's like to homestead in Alaska because they saw it on T.V., they are completely deluding themselves!

People have funny ideas about Alaska, and I find that way too many people think they can just waltz up here and stake out free land. We continually get inquiries from people thinking that Alaska is legally up for grabs.
We used to get approached by "reality" television producers about once a month. Since I started responding to their queries with my "consultant's" rates, they've largely left us alone.
If a reader wants to check out Alaska, they should come see it! Get on a Alaska Marine Highway, camp out on the decks, talk to people. They'll learn that Alaskans aren't much different than other Americans, and yet they are — sometimes in the most glorious ways!

HH: According to your blog, you live a mostly-subsistent lifestyle. What do you grow in your garden, and does the climate in Alaska limit what and when you can grow?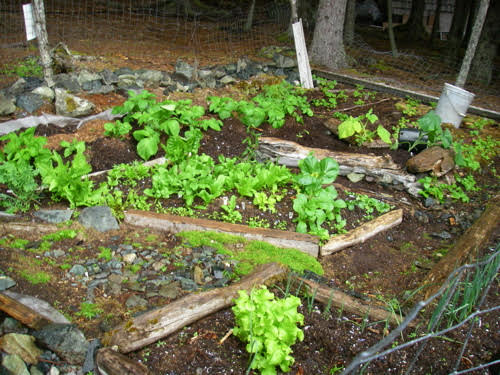 MZ: We grow a lot of root vegetables and cold weather crops, cabbages, kale, spinach, potatoes, leeks, carrots, strawberries, beets. Kale is a huge staple, because it seems to survive everything, from sub-zero winters to marauding moose. We have a small greenhouse that allows us to grow tomatoes and peppers. Outside, we manage a few small artichokes each year, and some asparagus. Rhubarb grows extremely well here!

We enjoy extended sunlight in the summer, but we live under the east face of a ridge, so our garden gets shaded hours early. You should see our neighbor's gardens on the west side!
It's all a crapshoot, not only because the growing season varies so much, but because of global warming, which has affected our growing season. Some years, we've barely grown enough of the standard vegetables to get by. We extend the growing season as much as possible with cold frames, grow a few indoor plants, grow and eat a lot of sprouts in the winter.
HH: What are the challenges and benefits of the subsistence lifestyle?
MZ: [The main challenge is] keeping at it. Setting aside time every single day to garden, fishing when conditions are right, hunting when the season's on. Watching and listening, being ready to switch tasks at a moment's notice. Most of all, not giving in to going to town and getting anything we want from the grocery store.
[The main benefit is] better tasting food, [and] the satisfaction of procuring it ourselves! The security of knowing how it was grown, that no chemicals went into its development. Managing our own time, working together as a family rather than punching a time clock. Further, it frees us from the necessity of earning so much money, which we've found to be a huge relief.
HH: When and why did you decide to live off-grid?
MZ: We decided to live off grid because the new property was off grid—we realized that if we wanted to live here, we'd need to learn how to live accordingly.
We've long been concerned about the environment and humankind's impacts on it. We saw this as an opportunity to live deliberately, to take responsibility for the power we use and the food we eat.
We decided we'd try it for three years, see if we could last. This August, we'll have lived here 13 years.
HH: What are the challenges and benefits of living off-grid?
MZ: [The main benefits are] knowing what must be done to keep the lights on! Freedom from utility bills. Freedom to act when action is required. We don't wait around to see if "they" will get the lights back on if the power goes out, we get out there and find out what caused them to go out, and we fix whatever happened.
[The challenge is] standing ready to take the action required — it cuts both ways! Also, learning that power might not always be there when we want to flip a switch. We've learned to work within the limits of the weather, to cut back on usage if the day's dark and the wind doesn't blow, and the battery charge is low.
Off grid, the learning curves are huge, and the price of failure is high. Most days, we feel up to the challenge.
HH: You write on your blog that there is no road to your property. What do you do in cases of emergency?
MZ: We handle it! The fire department won't come put out a fire. The police don't check to see if our property is secure. We try to be prepared to help ourselves.

Aly has had Wilderness First Responder training, which Michelle and I hope to get soon. We maintain bug out bags for every family member, and have emergency procedures in place. We keep a radio tuned to the emergency alert at all times. Our bookshelves are crammed with self-assist books, such as "Where There Is No Doctor."
It could all end in a split second, if we're not careful. In most ways, that makes this life all the sweeter, knowing we could lose it all so fast.
HH: What are you doing on your homestead right now that you really enjoy?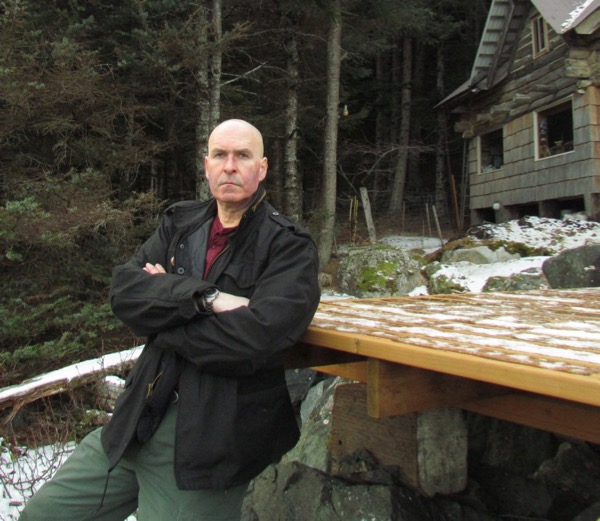 MZ: Now is the winter of our discontent! The time between Christmas and real thaw is probably our hardest season. I'm writing a lot, trying to get an ebook out on the market. I'm making wine, which I really enjoy.
I look forward to the summer, when I can fish. I love cast fishing off our rocks. That may be my favorite homestead activity.
HH: What do you hope for the future of your homestead?
MZ: Some day, I'm going to build that sauna! And, I hope to monetize the blog in a more meaningful way.

Michelle has plans to build more grow boxes in the garden. She keeps talking about trying to start a B&B here, which seems intriguing to me. Michelle wants to move our bedroom to the upstairs floor, which is a huge but exciting project.

Mostly, though, I hope to get next year's wood in, catch more and bigger fish come summer, maybe finally bag a legal moose next autumn. A key to our success is finding satisfaction in small things.

This Q&A has been edited for clarity and length.